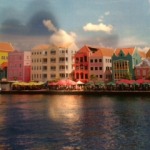 Curacao, is located off the coast of Venezuela and is one of the three islands referred to as the ABC Islands in the Caribbean. With rich colonial history, visitors are charmed by the pastel hues of the traditional Dutch architectures that line the waterfront in the historic capitol Willemstad, a true postcard photo opportunity. The rich blending of this architecture and unique island influences  of Willemstad contributed to this quaint island being granted the status of a World Heritage Site.
Curacao is perfect for travelers seeking a bit of paradise combined with sophisticated European style shopping and dining. Opportunities abound for visitors to explore the island whether it be by sailing, fishing, kayaking, windsurfing ,cycling, golf or beach volleyball. For divers- The Mushroom Forest (in the top 100 list of dive sites) is just one of 40 different dive areas and cover 65 individual dive sites  and for beach lovers secluded picture-perfect cove beaches invite you just to relax.
Curacao's nightlife scene is an eclectic mix of sight and sound and written about in the New York Times.
A wide variety of lodging options are available including hotels, resorts and bungalows ranging from small to large resorts – including my favorite the Kura Hulanda Lodge and Beach Club
No wonder  ABC Bachelorette chose this beautiful island for the location of the final episode for season eight's Emily Maynard.
For information on booking your Honeymoon in Curacao contact Linda Dancer  Direct Line 931-337-0770  Toll Free 1-888-811-1888 ext 331
Email  [email protected]