Add some Aloha to your destination wedding:
A Akahai – meaning kindness ; as with tenderness
L Lokahi – unity ; as with harmony
Olu olu – agreeable ; as with pleasantness
Ha'a Ha'a   humility;  with modesty
A ahonui – patience; with perseverance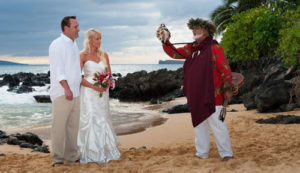 Get Married in a Hawaiian Paradise:
Adopting Hawaiian Values into your marriage
Love is like a bird , there is no branch it does not perch upon.
Understanding the romance of Aloha.
You live Aloha/ You are Aloha
Hague Treaty  makes  Hawaii weddings – marriage license valid world wide!
Contact me today to plan your dream Hawaiian wedding! [email protected]!
Direct Line 931-337-0770 or toll free 1-888-811-1888 ext 331